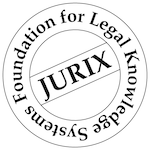 JURIX 2010
The 23rd International Conference on Legal Knowledge and Information Systems
University of Liverpool (U.K.), 16th-17th December 2010
For more than 20 years the Jurix Conference has provided an international forum for academics and practitioners in the field of legal informatics for sharing ideas and experiences on the representation of legal content and its representation in computer systems. We invite submission of original papers on the advanced management of legal information and knowledge (foundations, methods, tools, systems and applications).
The 23rd edition of Jurix will be organised by the University of Liverpool.
The conference proceedings will be published by IOS Press (Amsterdam, Berlin, Oxford, Tokyo, Washington DC) in their series "Frontiers in Artificial Intelligence and Applications" before the Conference. A list of accepted papers can be found here.
Call for Papers
The official Call for Papers, Workshops and Tutorials
JURIX 2010 Workshops
Conference Registration
Conference registration is now open through the University of Liverpool's 'online store'.
Conference Location and Hotel Accomodation
The 23rd edition of Jurix will be organised by the University of Liverpool. A list of possible hotels in Liverpool has been compiled and a map showing their location is available. We recommend early booking since there will be a UEFA cup game on Wednesday December 15th in Liverpool between FC Utrecht from the Netherlands and FC Liverpool.
Program Committee Chair
Radboud Winkels, Leibniz Center for Law, University of Amsterdam, the Netherlands
Organisation Committee Chair
Katie Atkinson, University of Liverpool, U.K.
Important Dates
August 29th, 2010 Deadline for submission of abstracts
EXTENDED: September 12th, 2010 Deadline for submission of papers
September 19th, 2010 Deadline for submission of tutorials, workshops and demonstration proposals
October 1st, 2010 Notification of paper acceptance
October 17th, 2010 Camera-ready papers due
December (14th and) 15th, 2010 Jurix Workshops/Tutorials
December 16th-17th, 2010 Jurix 2010 Main Conference
-->